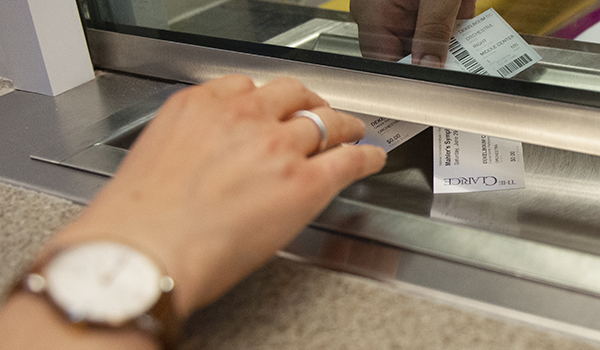 Our ticket office is located in our lobby.
Summer Hours
Monday-Friday: Noon-5PM,
Extended evening and weekend hours for events as needed.
Semester Hours
Monday-Saturday: Noon-8PM
Sunday: Noon-6PM
Extended evening hours for events as needed.
Finals Week & Winter Break Hours
Tuesday-Thursday, December 12-14: Noon-5PM
Friday, December 13: Noon-3PM
Saturday, December 14: Noon-3PM
Sunday, December 15: Noon-8PM
January 8-23: Monday-Friday, Noon-5PM
Closed for Semester Breaks
Thanksgiving Break: Tuesday, November 21-Sunday, November 26
Winter Break: Monday, December 18, 2023-Sunday, January 7, 2024
Spring Break: Saturday, March 16-Sunday, March 24, 2023
Student Ticket Information:
UMD students get free tickets! When you select your tickets, choose the "UMD Student Free" option to claim your free student ticket. For more information about free tickets, student jobs, and more, be sure to visit the Student Terps page.
Fees*
Booking fee: $4/ticket (Waived for in-person purchases)
Returns and exchanges*
You may return or exchange your ticket any time before the event. Please call or email the ticket office to arrange a change to your tickets.
Flexibility is key! All exchanges and refunds are fee free through the 2023-24 season.
If you request a refund for an order paid with cash, check or a now-expired credit card, you must complete a Form W-9 so that the State of Maryland may issue you a refund check. Note that this process takes 6-8 weeks to complete.
* Some special events and rental events have different prices, fees, or return/exchange policies, which will be listed on the online event webpage.
Inclement weather
Buy with confidence, regardless of what the weather may bring.
Here's what to expect from us during inclement weather.
How to order tickets
Online: Order tickets until 30 minutes prior to the event.
In person: Visit our ticket office, located in The Clarice lobby.
By phone: Call 301.405.2787, option 0.
Forms of payment
Cash: For in-person orders only. Do not send cash in the mail.
Credit card: Visa, MasterCard, Discover and American Express.
Check: Make payable to University of Maryland.
Terrapin Express: UMD students only.
Ticket delivery options
Pick up / will call: Retrieve your tickets from the ticket office. On performance nights, please see the window labeled "Will Call."
Mail: Expect your tickets to arrive within 2 weeks of your order.
Mobile: A PDF of your tickets will be sent to your email. Print these pages or show them directly on your phone when you arrive at the venue.
Note: Some performance nights, we have multiple "will call" windows. Please approach the one that corresponds to your last name.
Note: We do not deliver student tickets by mail. Please retrieve your student tickets from the ticket office.
Group Orders
We offer a 20% discount to groups of 10 or more guests. To make a reservation for your group, please fill out the Group Order Interest Form. If you have any questions, contact the ticket office at tickets-theclarice@umd.edu 301.405.2787.  
Lost your tickets?
If you purchased the tickets from us, please contact our ticket office. We'll reprint your lost tickets for you.
If you purchased the tickets from an authorized reseller (such as directly from a rental client), please contact the seller.