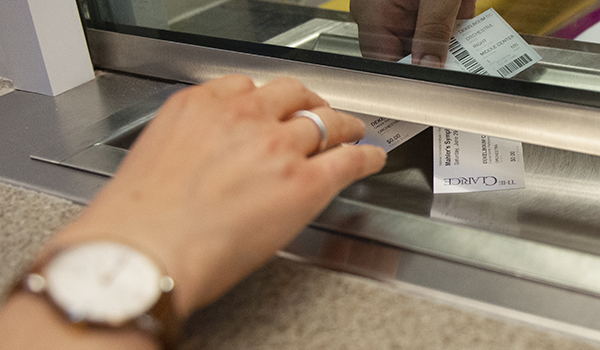 Our ticket office is located in our lobby.
Ticket Office Hours
Special Announcement:
Due to COVID-19, the Ticket Office is currently closed. 
We are available by phone on Monday through Friday from Noon to 5PM 
at 301.405.2787 or via email at tickets-theclarice@umd.edu.
Regular Season Hours
Monday - Saturday: Noon to 8PM
Sunday: Noon to 6PM
Extended hours as necessary for events.
Ticket prices*
We strive to offer extraordinary performances at the lowest possible prices for everyone.
Regular: $25 - $40
Arts Pass Subscribers: Learn more.
Groups of 10+ Non-Students: $20 - $35, contact Liana Stiegler for details: 301.405.7236, groups-theclarice@umd.edu. ​​​
Students/Youth under 18: $10
UMD Students: UMD Students can reserve free tickets to most events. Learn more.
Standard Discounts*
Active and retired members of the military, University of Maryland College Park alumni, faculty, and staff are eligible for $5 off per ticket. Select the appropriate price type for your ticket and the discount will automatically apply. 
Fees*
Booking fee: $2/ticket (Waived for in-person purchases and Arts Pass subscribers)
Return/exchange fee: $5/ticket (Waived for Arts Pass subscribers)
Returns and exchanges*
Subject to a fee, you may return or exchange your ticket any time before the event.
If you request a refund for an order paid with cash, check or a now-expired credit card, you must complete a Form W-9 so that the State of Maryland may issue you a refund check. Note that this process takes 6-8 weeks to complete.
* Some special events and rental events have different prices, fees, or return/exchange policies, which will be listed on the online event webpage.
Inclement weather
Buy with confidence, regardless of what the weather may bring.
Here's what to expect from us during inclement weather.
How to order tickets
Online: Order tickets until 30 minutes prior to the event.
In person: Visit our ticket office, located in The Clarice lobby.
By phone: Call 301.405.2787, option 0.
By mail: Print and fill out the Ticket Order Form
Send your completed form to us:
The Clarice Guest Experience
University of Maryland
8270 Alumni Drive
College Park, MD 20742-1625
Forms of payment
Cash: For in-person orders only. Do not send cash in the mail.
Credit card: Visa, MasterCard, Discover and American Express.
Check: Make payable to University of Maryland.
Terrapin Express: UMD students only.
Ticket delivery options
Pick up / will call: Retrieve your tickets from the ticket office. On performance nights, please see the window labeled "Will Call."
Mail: Expect your tickets to arrive within 2 weeks of your order.
Note: Some performance nights, we have multiple "will call" windows. Please approach the one that corresponds to your last name.
Note: We do not deliver student tickets by mail or email. Please retrieve your student tickets from the ticket office.
Group Orders
To make a reservation for your group, please fill out the Group Order Interest Form. If you have any questions, contact Liana Stiegler, Guest Experience Coordinator, at groups-theclarice@umd.edu or 301.405.7236.  
Lost your tickets?
If you purchased the tickets from us, please contact our ticket office. We'll reprint your lost tickets for you.
If you purchased the tickets from an authorized reseller (such as directly from a rental client), please contact the seller.