​
The Clarice is dedicated to providing students with meaningful outlets for creative expression. Here are some of the many opportunities available to get you involved at The Clarice and beyond! 
UMD students get free tickets! Free student tickets are available for most events presented by The Clarice, UMD School of Music (SOM), and UMD School of Theatre, Dance, and Performance Studies (TDPS). Sign up for Free UMD Student Tickets!  
Free tickets for SOM and TDPS events are available for the entire semester on the first day of classes. Free tickets for Clarice Presents events become available the Monday before the performance, and may be limited based on availability.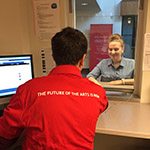 Employment Opportunities
Join Team Clarice! We have employment opportunities available to students in Guest Experience, Production and Artist Services.
To view available Guest Experience and Campus and Community Engagement employment opportunities, visit our Employment page.