Grand Pavilion of performing arts center
The Clarice Smith Performing Arts Center
Six Performance Venues
When you arrive through the main entrance of the performing arts center, you'll find yourself just steps away from our six performance venues. Download a PDF of our building map. 
The Morris & Gwendolyn Cafritz Foundation Theatre (up to 86 seats) is a black box theatre used for performances, lectures, meetings and special events.
The Dance Theatre (190 seats), with a wood-sprung floor and retractable seats, can accommodate performances, lectures, workshops and rehearsals.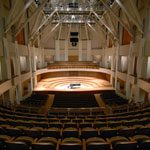 The Elsie & Marvin Dekelboum Concert Hall (962 seats plus a 134-seat choir loft) augments the big, sweeping sounds of large ensembles while providing each seat with a wonderful view of the stage.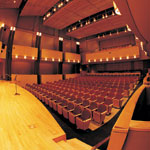 The Joseph & Alma Gildenhorn Recital Hall (297 seats) is an intimate, jewel-box theatre with bright acoustics that is a favorite among audiences of solo and chamber artists.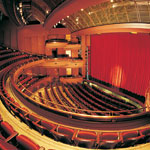 The Ina & Jack Kay Theatre (626 seats) is a classic proscenium theatre with a large archway that frames the front of the stage. This versatile space can accommodate performances with large casts and elaborate sets.
The Robert & Arlene Kogod Theatre (up to 156 seats) is a multi-purpose, flexible black box space often used for performances, meetings and receptions.
In addition to the performing arts center's six performance venues, these additional spaces are often the location for lectures, workshops and receptions:
Grand Pavilion
As the main entrance to the performing arts center, the Grand Pavilion serves as the town square of our performing arts village. Approximately 3,800 square feet in size, it can comfortably accommodate up to 600 standing guests or 325 seated guests. 
Upper Pavilion
The upper-most segment of the Grand Pavilion that leads out to the Clarice Courtyard, the Upper Pavilion serves as the perfect location for informal receptions of up to 110 guests. 
Faculty/Staff Lounge
This lounge (up to 49 guests) serves as a meeting and reception space within the performing arts center. 
Clarice Courtyard
The Clarice Courtyard is located outside Applause Café, near the administrative offices of the School of Theatre, Dance, and Performance Studies. 
Tour The Clarice
Interested in touring The Clarice? Check out our Tours page to find out all you need to know about scheduling a tour in our building.
Rentals
Visit the Rentals page if you are interested in renting any of the facilities located within The Clarice Smith Performing Arts Center.
Streaming at the Clarice
Currently, streaming at The Clarice is offered in the Gildenhorn Recital Hall. Once additional venues are made available, those will be added here as well. For select events, artists and performers now have the ability to publicly stream their events as well as possibly archive that footage for future use. Expand your audience, share with family or enjoy a high quality recording of your work.
This new feature includes:
To access streaming capability for an upcoming event please contact your Event Manager, Production Manager or Marketing Communications Coordinator. 
Please review our Streaming Policy. 
If you are interested in experiencing one of our publicly streamed events, a list of upcoming opportunities can be found at vimeo.com/theclarice.
Questions? Please contact us at contact-theclarice@umd.edu.
Standard Operating Procedures
Standard Operating Procedures
Standard Operating Procedures (SOPs) are designed to create safe and efficient work practice for all staff members, departments, students, resident artists and related personnel. Questions concerning SOPs should be addressed to Ryan Knapp, Director of Operations at 301.405.0779 or rnknapp@umd.edu.
Please note that additional rules and regulations govern the general use of The Clarice; the below SOPs only apply to the specific areas addressed.