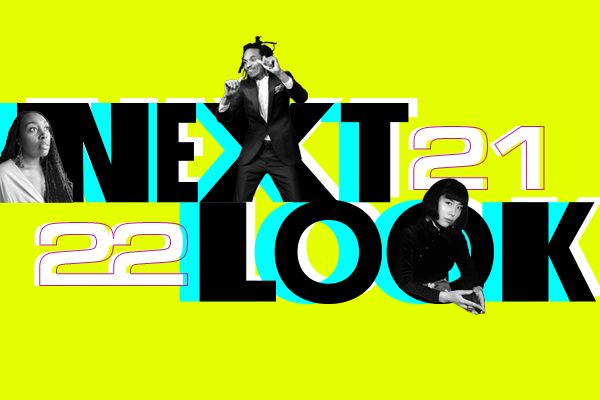 NextLOOK 2022-23 Request for Proposals
The deadline for 2022-23 proposals was Friday, March 25, 2022. Check back in Winter 2023 for 2023-24 proposals.
For questions about NextLOOK, please contact Jane Hirshberg at janeh22@umd.edu or Brooke Kidd at brooke@joesmovement.org.
About NextLOOK
Established in 2014 through a partnership between The Clarice and Joe's Movement Emporium, NextLOOK supports the development of new music, plays, dance and other experiences by performing artists based in DC, Maryland and Virginia who want to understand how their audience can become a creative partner. By removing logistical barriers and providing a sounding board for artists creating new work, NextLOOK invests in the regional DC/MD/VA arts ecology and creates an accessible, exploratory environment that connects intriguing artists with adventurous audiences. All performances are held at Joe's Movement Emporium and are pay-what-you-wish.
NOTE: The showing is not intended for presenting existing work.
Artists selected to be part of NextLOOK receive: 
A stipend of $7500
Ongoing access to rehearsal space at Joe's Movement Emporium, based on availability; not to exceed 1 week per month
Support from staff of The Clarice and Joe's Movement Emporium to construct innovative methods of deepening the audience's involvement in their creative process.
NextLOOK Residency Planning Cohort
NextLOOK artists must commit to become part of a Residency Planning Cohort, made up of artists selected to be in the 2021-22 NextLOOK season, along with staff members of Joe's and The Clarice.  Each artist's creative process will be developed, scheduled and refined through the Residency Cohort Planning process. Cohort benefits include:
Guidance, input and ideas for design, production and audience engagement strategies before, during and after the residency;
Production coaching and planning
Complimentary tickets to any event on Joe's and/or The Clarice's performance season
Professional development workshops with artists and other experts, selected by the cohort
The NextLOOK Residency
The NextLOOK residency is an opportunity to support artists and the creation of new work, receive production support and test content with peers and an audience. NextLOOK artists are awarded access to rehearsal and theater space at Joe's Movement Emporium in Mount Rainier, MD over the course of 11 months, from July 2022 through May 2023, for project design, rehearsal, audience engagement and performance. Access to the space is negotiated between Joe's staff and NextLOOK artists, based on availability. The cohort of NextLOOK artists receives production support from Joe's, The Clarice and guest artists.
NextLOOK Artist Roster
The following artists have participated in the NextLOOK series since its inception in 2014:
2021-2022
Rochelle Rice (Washington, DC)
Chao Tian (Clinton, MD)
Joseph Webb, Jr. (Upper Marlboro, MD)
2020-2021
Lineage Percussion (Takoma Park, MD)
Rachel Grossman & Tosin Olufolabi (Washington, DC)
Alina Collins Maldonado (Alexandria, VA)
2019-2020
Chitra Subramanian (Washington, DC)
Simone Baron (Potomac, MD)
Dominic Green (Upper Marlboro, MD)
Sinclair Ogaga Emoghene, Palo Regis & Kate Spanos (Fairfax, VA & College Park, MD)
2018-2019
Victor Provost (Crofton, MD)
Ronya-Lee Anderson (Adelphi, MD)
Be Steadwell (Washington, DC)
Monique Walker (Waldorf, MD)
Tariq O'Meally (Georgetown, MD)
2017-2018
Dior Ashley Brown (Baltimore, MD)
Alexandra Kelly Colburn (Suitland, MD)
Orange Grove Dance (Takoma Park, MD)
Alight Dance Theatre (Takoma Park, MD) 
2016-2017
Flying V (Bethesda, MD)
Scott Patterson & Afro House (Baltimore, MD)
Happenstance Theater (Rockville, MD)
Orange Grove Dance (Takoma Park, MD)
Meghan Abadoo (Mount Rainier, MD) 
2015-2016
Taurus Broadhurst Dance (Washington, DC)
BodyWise Dance & Margot Greenlee (Washington, DC)
Clown Cabaret (Maryland)
Yoko K. (Washington, DC)
UpSpring Studio (Mount Rainier, MD) 
2014-2015
Pointless Theatre (Washington, DC)
Vincent E. Thomas/VTDance (Washington, DC)
BOOMscat (Washington, DC)