UMD Jazz Professors
Thursday, September 10, 2015 . 6:30PM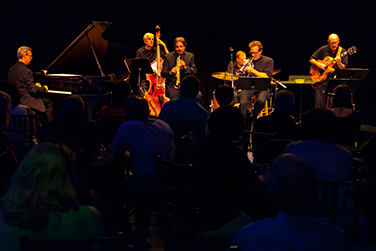 UMD Jazz Professors photo by Dylan Singleton
Principal People:
Saxophone Chris Vadala
Trumpet Chris Gekker
Guitar Gerry Kunkel
Drums Chuck Redd
Piano Jon Ozment
Bass Tom Baldwin
Vocals Lena Seikaly
Step into The Clarice's Kogod Cabaret and enjoy tasty beverages to the tune of the UMD School of Music's jazz professors.
Featuring popular songs by greats such as Duke Ellington and Dizzy Gillespie, this concert is a seriously fun study in jazz. UMD alumna Lena Seilakly returns to contribute swinging vocals.