About
Launched in June 2021, the NOI+F Conducting Academy provides training and mentorship for emerging conductors. Selected conducting fellows will work with conductors Marin Alsop and James Ross in a variety of settings including seminars and conducting sessions (with piano and string quintet and also with chamber orchestra). Fellows will have the opportunity to work alongside resident composers to prepare public performances of contemporary music. 
As a conducting fellow, you can expect the following activities over the course of the week: three seminars/discussions, three conducting labs (with piano/string quintet), two chamber orchestra rehearsals in preparation for a public concert and multiple rehearsal observations led by Marin Alsop with the NOI Philharmonic.
Auditors may attend all sessions, but do not receive podium time. Auditors will receive private consultations with James Ross to review their conducting videos and receive individualized feedback. 
All 2023 Conducting Academy Fellows must be between the ages of 18 and 30 on June 25, 2023.
NOI+F is subject to University of Maryland COVID-19 guidelines. At this time, UMD does not require proof of COVID-19 vaccination. However, COVID-19 vaccines are strongly recommended. We encourage fellows, faculty and staff to assess their personal COVID-19 health risk and take appropriate measures. Additional information can be found here: https://umd.edu/4Maryland
Key Dates
November 1, 2022: Conducting Academy application opens

February 15, 2023: Conducting Academy applications are due by 11:59PM ET

March 1, 2023: Applicants will be notified of audition results

June 24, 2023 – July 2, 2023: Program dates
Enrollment 
Up to 6 conducting fellows

Up to 20 auditing participants
Apply + Audition
APPLICATIONS FOR NOI+F 2023 ARE NOW CLOSED. FOR INQUIRIES ABOUT LATE APPLICATIONS SUBMISSIONS, PLEASE EMAIL US AT NOI@UMD.EDU.
Applications for the 2023 NOI+F Conducting Academy open on November 1st, 2022. Required application materials for the 2023 Conducting Academy are as follows:
Resume (2 pages maximum)

A letter of recommendation addressing your musicianship.

Letters of recommendation may be submitted directly with your application OR emailed to noi@umd.edu by your recommenders. Please have them include the subject line, "Letter of Recommendation, 'Your Name'." 

Video excerpts of your conducting showing at least 2 contrasting works, each no longer than 3 minutes. Total video should not exceed 6 minutes. All videos must be front-facing, from the point of view of the orchestra.

A document describing the works contained on the video, including repertoire, date/location of the performance or rehearsal and ensemble.

Please also submit a front-facing video recording (iPhone quality is fine) of you simultaneously singing and conducting the following short excerpt: Brahms 1, First movement, Bar 29 to Bar 70. NOTE: This may not be easy to sing, but please do your best!
 
2023 Repertoire
Igor Stravinsky: Le sacre du printemps (The Rite of Spring)

Johannes Brahms: Symphony No.1, op.68, C minor

Additional works written by NOI+F composition fellows
Faculty
One of the foremost conductors of our time, NOI+F Music Director Marin Alsop is internationally recognized for her inspiring artistry, innovative programming, deep commitment to education and audience development and powerful advocacy for the importance of music. The first woman to serve as the head of a major orchestra in the United States, South America, Austria and Britain, she currently serves as chief conductor of Austria's ORF Vienna Radio Symphony Orchestra, conductor of honor of Brazil's São Paulo Symphony Orchestra and the first chief conductor and curator of Chicago's Ravinia Festival. In her 14-year tenure as music director of the Baltimore Symphony Orchestra, she led the orchestra's first European tour in 13 years, conducted more than two dozen world premieres and founded multiple change-making initiatives, including OrchKids, a music education program for the city's most disadvantaged youth.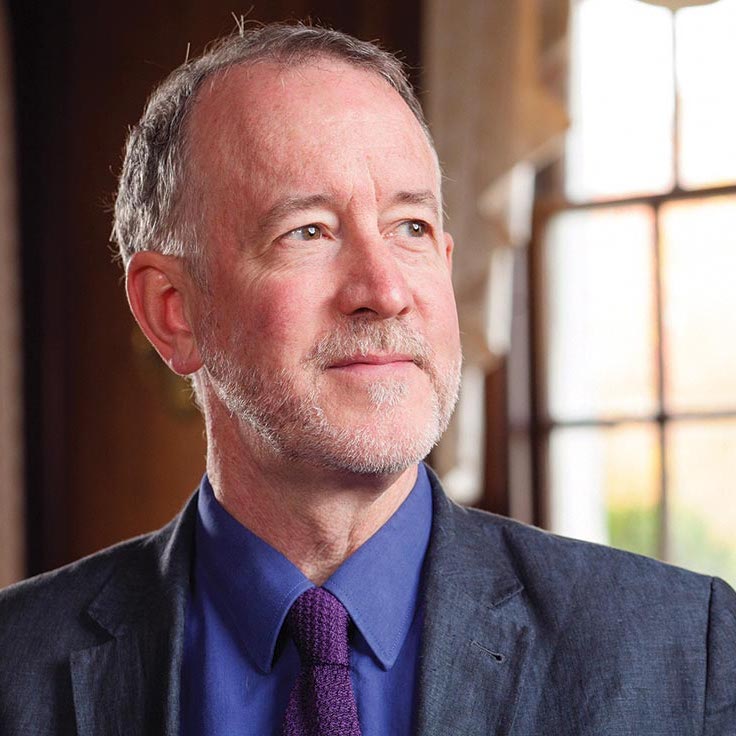 James Ross is in his fifth season as Music Director of the Alexandria Symphony Orchestra. He is presently Orchestra Director of the National Youth Orchestra – USA at Carnegie Hall and teaches conducting both at the Juilliard School and at the Curtis Institute of Music. He recently finished a distinguished 16-year tenure as Professor and Director of Orchestral Activities at the University of Maryland and a two-year stint as Music Director of the Orquestra Simfònica del Vallès in Barcelona, Spain. Ross has led such diverse orchestras as the Leipzig Gewandhaus, the Utah Symphony, Les Arts Florissants, the Royal Stockholm Philharmonic, Chicago Civic Orchestra, the Harrisburg Symphony Orchestra, the Orquesta Sinfónica de Galicia, the Binghamton Philharmonic, the KwaZulu-Natal Philharmonic and the National Symphony Orchestra at The Kennedy Center. He has served as Music Director of the Yale Symphony Orchestra and Assistant conductor of the Boston Symphony Orchestra. His principal conducting teachers were Kurt Masur, Otto-Werner Mueller, Seiji Ozawa and Leonard Bernstein.
Fees
Fees and tuition for the Conducting Academy include:
Early Bird Fee (Before Dec 15, 2022): $50

Standard Fee (Dec 15, 2021 and later): $70

University of Maryland students apply with no fee! Email noi@umd.edu for further instructions.

Fellowship tuition: $800

Auditor tuition: $250

A 50% deposit will be required upon acceptance. The remaining balance will be due on or before May 15, 2023.

Tuition assistance is available for fellows demonstrating financial need.  
Fellows and auditors are responsible for arranging travel to and accommodations in College Park, MD. NOI+F staff will provide nearby suggested options upon acceptance. Please note: travel and housing options/requirements may be updated due to local health and safety guidelines with regard to the COVID-19 pandemic.
Housing
Conducting academy fellows are responsible for procuring their own housing in College Park, MD during their residency. Sublets for the duration of the NOI+F Conducting Academy near the University of Maryland campus can be found through a variety of websites. A list of resources will be provided to all fellows upon acceptance. Other housing options may be available through UMD Greek Life Housing.
Parking
Participants that wish to park their car on the University of Maryland campus will be required to purchase a parking permit from the University. Campus parking fees are set by the University's Department of Transportation and are not under the purview of NOI+F. Discounted satellite parking options will be made available closer to the festival. More information will be made available regarding the cost and specific parking locations upon acceptance.
Questions + Additional Information
If you have additional questions or would like additional information, contact us at noi@umd.edu or 301.405.2317.